Sliding doors are installed indoors, for the entrance to the winter garden, a balcony or terrace. They retain the space of the room, visually expand the room and fill  it with light. Superior working ability, superior design, large capacity applications – these are just some of the advantages of such doors. SIA VINTEKSS produces sliding and folding doors using two basic REHAU profiles: Brillant Design and GENEO. Sliding doors exist in two main systems: the pan-sliding doors and sliding-folding.
Pan-sliding Doors.

Common doors which open inward have one small drawback: they need a lot of space. Sliding doors are easily shifted with economy, keeping the interior of the room. Leafs of the doors in this system have three main positions – open, put back (airing) and closed. Such doors offer excellent sound and heat insulation. Possible options for the design of doors:

Sliding-folding Doors.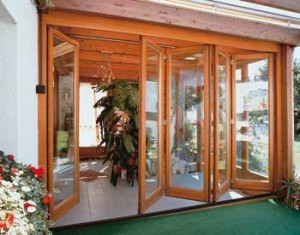 These doors make the room very elegant and effectively used. Due to the successful solution of all the elements of the door can be moved to the side, thereby saving space. Through folding leaves there is provided a broad and easy passage, which is an advantage, for example, for access to the veranda or terrace. Turn and tilt leaf, installed regardless of the elements of folding door, allows ventilation of your room at any time of year. Possible options for the design of doors:

Geneo
Technical features and benefits of sliding doors based on the Rehau GENEO profile
System depth: 86 mm
Five-chamber system with coefficient of heat transfer Uf= 1,3 W/m2K
Sound insulation: Rw,P = 45 dB
Tamper resistance: up to the class 2 (DIN V ENV 1627)
Air and water resistance: up to the class 4 (DIN EN 12207/9A (DIN EN 12208)
The width of the elements up to 10 m
Good noise isolation, the ability to install double-pane unit up to 53mm
High rigidity with intense fiber reinforced of the profile core due high-tech material RAU-FIPRO ®
Brillant Design
Технические свойства и преимущества раздвижных дверей на основе профиля Rehau Brillant-Design
Depth: 70 mm
Four-chamber system with coefficient of heat transfer Uf= 1,9 W/m2K
Box and threshold with thermal insertion
Good noise isolation, the ability to install double-pane unit up to 44mm
Sound insulation: up to the class 4.
Tamper resistance: up to the class 2 (DIN V ENV 1627)
Air and water resistance: up to the class 4 (DIN EN 12207/9A (DIN EN 12208)
The most harmonious division of space.
The width of the elements up to 10 m
Available colors
Also there are available the colours specified in the booklet, as well as other colours RAL, which can be obtained by painting the profile: Colors
Download