Handles for windows
Standard
Roto handles have a number of advantages in terms of quality, technology, safety and design. All handle models meet the requirements of RAL RG-607/9. Details of window and door handles Roto are made ​​from high quality aluminum materials or brass. Roto aluminum window handles are produced from heavy-alloyed, corrosion-resistant alloys.
Swing
As a new product RotoSwing has hidden socket and side decorative elements made in a diverse palette of RAL, as well as in special coloration. At the request of customers a wide range of selection for decorating is possible: from the classic performance of "tone on tone" to the performance of the individual alternative. Produced from an aluminum casting against pressure, this product line provides comfort of use, quality, and functionality, has an attractive "smoothed" design, and also ergonomic benefits for "essential deliminative potential".
Currently, RotoSwing exists in versions "Standard", "Lockable», «Secustik», «TiltFirst» and «With the control button."
Secustic
RotoLine Secustik. Special mechanism prevents opening of handle from outside.
 Additional options of window fittings
Hidden Roto NT Designo
Superior design and functionality – compact concealed in flap and frame hinges are not visible from the outside. No visible parts (hinges and decorative overlays), nothing hinders a superior design. Roto NT Designo allows swinging open the window, the maximum opening angle is 100 degrees.
Roto NT Designo hardware as standard are designed for flaps with the weight of 80 kg and a strengthened version of up to 130 kg.
The innovative concept of security.
Roto NT Designo has compact loop elements of small dimensions. To achieve greater security of your window there is enough space to install additional security systems which correspond the burglary resistance grade WK2.
Safe TiltFirst (children's rooms)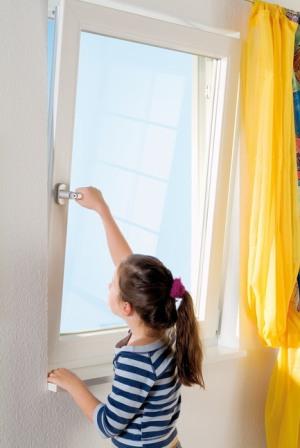 Security mechanism Roto Tilt First is based on the following order of priority:
– transforming the handle to the horizontal position you install a window in a folding position,
– transforming the handle to the vertical position you open the window wide (in the rotary position). However, this turn of the handle can be performed only with a special key. Without it, the turn of the handle is locked. Child won't be able to open the window in the rotary position without this key. Unlocking of the mechanism Roto Tilt First is possible only with an individual key for each window.
 The advantages of Roto Tilt First hardware:
– Safe Tilt First mechanism with the key. Are you sure that in your absence, the child will not come out of the window
– Reliability of Roto Sil coating. Roto Tilt First has a special coating Roto Sil which protects the metal from corrosion, mechanism Tilt First practically doesn't wear.
– Long shelf life of Roto Tilt First findings. Statistically, most often plastic window is opened in tilted position, so a sequence of openings is more ergonomic. Plastic window will serve you longer.
–Protection from sagging on single hinge. The special design of the mechanism Tilt First eliminates sagging of windows flap on single hinge. Your plastic window is completely under your control.
–Easy replacement of the hardware. You can change Roto Tilt First opening device to traditional and back simply by replacing the hardware.
Door Hardware
A wide variety of hardware allows meeting all customers' requirements for the doors configuration. Depending on the requirements and conditions for further use of the door, it can be equipped with the necessary handles (rotary, push or stationary), a lock with one or three locking points, door brakes for automatic closing of the opened door, and also with a mechanism for sliding or folding doors.
For the production of doors we use the mechanisms of various manufacturers: Gretch-Unitas (GU), Roto, Dr. Hahn, GEZE, HOPPE and others.  If you wish, we can also install hardware from other manufacturers.